is it can use the navigation and dashcam functions together with one car room mirror?
Car items that are popular these days
---
You've probably paid a lot of money to install navigation and dash cameras so far. But a product that can address all these costs and demanding installations is making headlines
Plus, it comes with an Android system, so you can download and use the app you want
4G sim support
It is Built in 4G sim card slot, you can two-way WiFi connection. local SIM card support below network bands:
2G/GSM:900(B8)/1800(B3); 3G/WCDMA:2100(B1)/900(B8); 4G/LTE:FDD,2100(B1)/1800(B3)
12 inch screen
The 12-inch panorama streaming IPS touch screen not only allows you to see the complete and clear three-lane state of the back road during the driving process, but also contains more road scenery.
ADAS
Road Safety Warning Systems ADAS (LDWS/FCWS/FVDW)
Lane Departure Warning System (LDWS)

Drowsy driving poses a more serious accident risk than drunk driving. If you leave the lane at 50 km/h speed, you will be warned by the LDWS

Forward Collision Warning System (FCWS)
Accidents can be avoided by maintaining a safe following distance. The road safety warning system in the mirror calculates the real-time distance between one's vehicle and the front vehicle while driving more than 30 kilometers per hour on the highway or less than 30 kilometers per hour in the crowded city center and issues a three-stage early warning to the driver according to the risk of collision.

Front Vehicle Departure Warning (FVDW)

When a car stops at an intersection or traffic jam, an intelligent guidance system informs you that the vehicle in front has begun to move, and prevents a slow response in case it stops while looking ahead.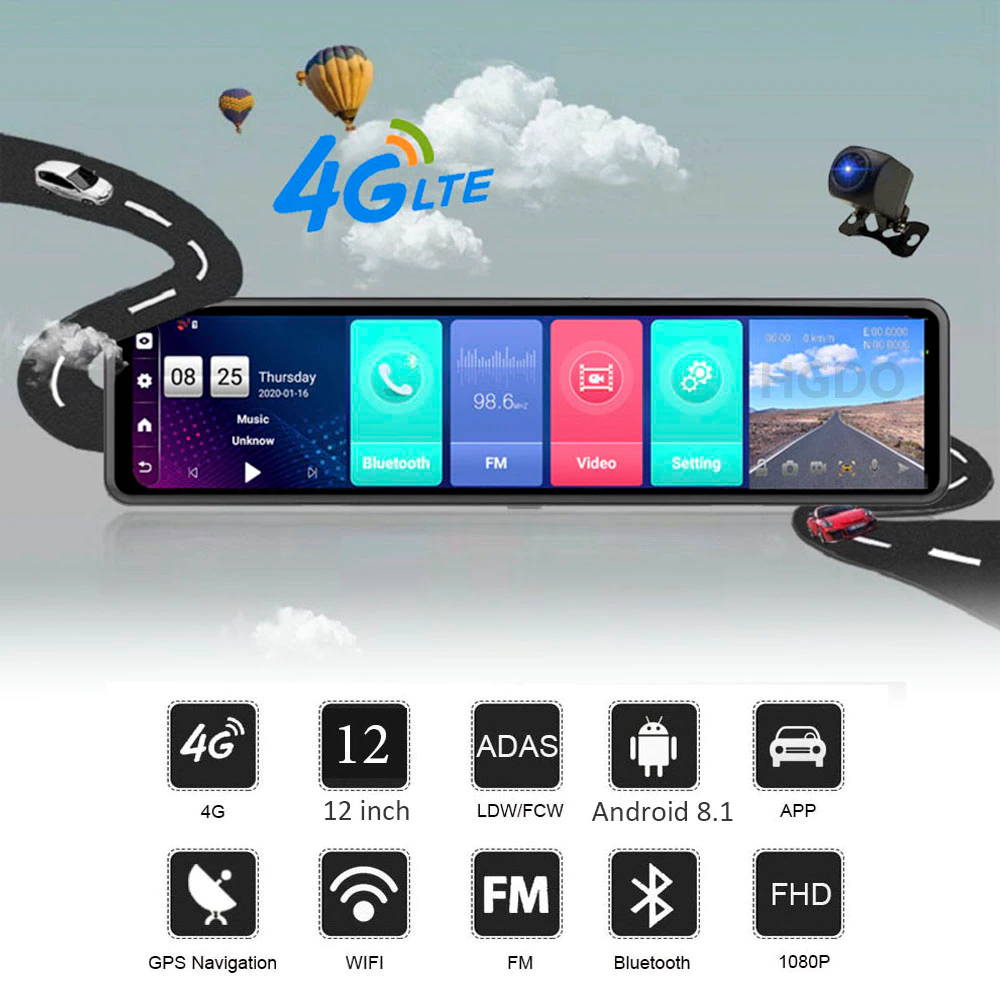 ---
Built-in Wi-Fi lets you stay connected on the go and quickly browse the web. You can pre-download GPS maps, movies, music, and applications when free WiFi is available.
For car DVRs that come with the Internet with a 4G SIM card, the car DVR may be connected to the WIFI and become WIFI SPOT for other devices
                          Bluetooth Function
Bluetooth hands-free, you can pair Bluetooth with DVR and smartphone and make it yourself.
The built-in MIC and speakers allow you to make direct calls from the mirror DVR itself
                                    GPS navigation
GPS: With additional GPS antennas, you can download the desired GPS to your internal memory to provide the best experience, regardless of your destination. In addition, 3G/4G network capabilities enable DVRs to use online GPS navigation faster and more seamlessly.
Offline Maps: Connect the wifi, then open the map.You can search for and download maps from your country in the ME" app and use them offline.
                               24Hour Paking Monitor
Automatically illuminate when the vehicle or a person in the vicinity of the vehicle starts to move and records start when a collision or collision is detected. The unit will automatically record for a few seconds, so you need to check the parking guard for 24 hours.
We provided you with a 24H parking monitor cable.
Specification
-Support 4G Network

-System: Android 8.1

-Quad Core 1.3GHz

-2GB DDR3 32GB Flash Memory

-1280*480 Resolution IPS Screen

-Camera: 1280*720&1920*1080P

-Capacitive Touch Screen

-Support GPS Navigation, Offline Map

-Support Bluetooth Hands-free Call

-Support FM Transmitter to connect car original speaker for better sound effect

-Support Wi-Fi connection; enable to connect hotspot of smart phone as well as share hotspot to smart phone

- Support ADAS Lane warning, Advanced Driving Alarm Systems (LDWS/ FCWS/FVMA) , it is useful alarm systems to keep your driving safer.

- Support Phone Remote Monitor: Car Keeper mobile app+Internet surfing
---